You are here

You are here:
Home > Monitor. Manage. Maximize.
GSE Blog
Monitor. Manage. Maximize.
Tracking for Everyone
GSatTrack is Part of Any Best in Class Solution
GSatTrack is an incredibly powerful telematics visualization platform, and its reputation in the industry is beginning to precede any conversations we have with potential clients. While that is very exciting for us, it is also an opportunity to make sure everyone fully understands exactly why customers, partners, and resellers across dozens of markets refuse to work with anything else, and how those people have been able to justify the investment and garner measurable ROI from their use of the platform. With every industry moving toward big data demands, operational efficiency tools, and intelligent worksites, it is more important now than it ever has been to remain at the forefront of those needs.
To this point, GSatTrack has been defined by a very simple mantra that elegantly summarizes the varying levels of need within the telematics industry across nearly every market vertical.
Monitor. Manage. Maximize.
These three words represent the entire value of a telematics ecosystem, with scaling representations of need. Everyone who is tracking something, or has the desire or need to track something, exists in this classification system; and understanding where demand meets functionality is a critical step in identifying and isolating the most important benefits of GSatTrack.
Monitor: the Value of Having Data
Monitor is mostly about saving lives, liability coverage, and regulatory compliance
The majority of people begin their tracking journey at this level. Monitor clients come from a series of different need origins, the majority of which fall into one of the following:
General or recreational desire to see where something is or where it has been
Liability concerns: protecting themselves or their organization with access to data
Regulatory needs: new or existing laws require the organization or individual to track an asset
Insurance coverage cost reduction: many companies pay less when they track assets
Emergency or backup communication services
Making the decision to start tracking is a big step for a number of organizations and even individuals, and can be the source of tremendous confusion as they pour over the bountiful options in the market available to them. Will they need off-grid tracking? Will they need the ability to run reports? How often can they have their asset(s) send data? How often should they? Of all of these different add-ons and upgrades, what do they need to achieve the goals they have?
For this reason, most new trackers enter the market with a narrow definition of goals they wish to achieve, and it is quite specific. They will choose the first option that accomplishes those goals and comes in at the budget they're looking to spend. GSatTrack often doesn't excel here because the power level of the product often leads to overselling of features. For this reason, GSE has begun making it clear that while it does boast a tremendously robust operational capability, it is also perfect for simple tracking demands as well. The addition of a corkscrew and a nail file to a Swiss Army knife doesn't make the blade any less useful, but it does make it easier for people to see it less as a knife and more as a tool, and when shopping for a knife, they might look at products that have less value because they are more in line with what they expect to get. The same is true for GSatTrack, and a greater understanding of "Monitor" could be the key to attracting more customers at this level.
Highlight: Monitor Features
Intuitive User Interface: track and view your assets with a customizable map view, and always be able to see where something is (Live Mode) as well as where it has been (History Mode)
Map and Data Sharing: Shared Views allow users to provide access to their map data with anyone without requiring a login, which is great for adventure logging or emergency support services
Simple Reports: keep data in summary format by running and exporting tracking data on a periodic basis, perfect for compliance with insurance or regulatory logging requirements
Immediate Alert Notifications: get popup notifications or send email and SMS notifications to any contact from the portal in the event of an emergency or when a major event happens
Save Places to the Portal: keep track of special map locations, whether they're favorite destinations, cool spots, operationally significant locations, or reference points
There are a number of other features available to basic GSatTrack accounts, and a much more in-depth explanation of Monitor on the GSatTrack website.
---
Manage: the Value of Having Control
Manage is mostly about saving time, increasing efficiency, and controlling hardware
The majority of commercial tracking applications in both the Satellite and terrestrial tracking markets require the Manage level of service, as it puts control of assets in the hands of the people managing those assets. Manage functionality is characterized by its ability to leverage the portal as a command center with direct lines of communication between a central operating point and assets in the field, as well as between assets without the need for a portal operator. Manage clients have a much broader understanding of the value of syncing data ecosystems with their daily operations, and take advantage of GSatTrack's powerful toolsets to make that possible.
Characteristics and need origins for typical Manage clients:
Assets operate remotely or off-grid
High-cost hardware tracking high-cost assets
Feature-rich hardware capable of more advanced data collection and reporting
Programmable devices in the field (possibly controlling other devices in the field)
Edge computing applications
Devices with two-way communication capabilities
Fleet management and dispatch
At the crux of the Manage client's needs summary is the ability to interact with, command, and control all of the devices in their ecosystem. Device agnosticism is one of the primary value propositions of GSatTrack, as the ability to pull data from hundreds of different devices across any communications network is not present in other products, which are typically designed to work with a single manufacturer's products, or which can only retrieve data from select networks.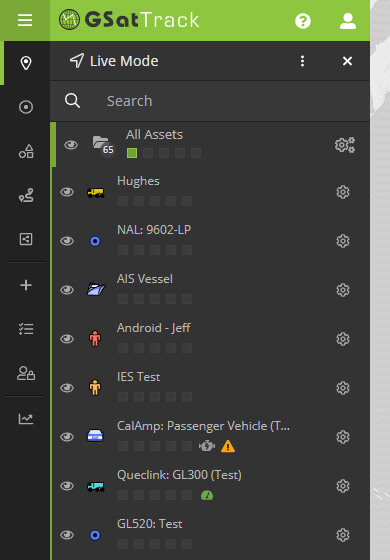 For Example:
If your ecosystem consists of:
3 Globalstar devices
6 Iridium-based GSatMicro units
2 Inmarsat-based IDP-782s
4 iPads
and 13 mixed network android phones
GSatTrack offers users the ability to pull data from all of those devices, across multiple networks, then display and interact with all of those devices in the same interface. This allows an organization to move to GSatTrack without refreshing their hardware infrastructure, and means asset managers work with one high quality management tool instead of multiple manufacturer-specific wares.
Manage really is about making "remote" possible
When working with advanced assets that support two-way communication and over-the-air configuration, GSatTrack really has the opportunity to shine. GSatTrack can be used to automate processes that would normally require manual initiation from the field, set and change reporting parameters, send custom scripts to terminals, and take control of the device's I/O connections as well. The automation of field asset reporting can save many organizations thousands of dollars a year in labor costs, but most report the real benefit being the increase in efficiency from those employees being able to focus their efforts on more productive and important work. Being able to diagnose and potentially even fix problems with field assets without ever leaving the office is also one of the many time-saving uses for GSatTrack.
There are so many operations that were made possible by GSatTrack's ability to engage directly with remote assets that would have been impossible or at least much more complicated and resource-intensive without this toolset. The GSE Blog and particularly the Case Studies of former and current clients hold plenty of these stories.
Highlight: Manage Features
Waypoint Management: send waypoints to field assets and track when they reach them
Send Command: send configuration scripts to assets that dictate their parameters, how they report data, and how they behave in the field
Messages and Chats: send text messages directly to the terminal that field operators can view on the device's onboard display or connected screen
Message Routing: GSatTrack can facilitate two-way communications between any two devices in the ecosystem, regardless of manufacturer or network, just by parsing and routing those messages automatically
Get Route: use the portal to route any asset to any saved Place or specified location, then send the route to assets that support remote navigation
Logs: asset operators in the field can log maintenance and fuel activity, log in and out of operating sessions, and generate reports directly from the field using forms and templates
There are a number of other features available to advanced GSatTrack accounts, and a much more in-depth explanation of Manage on the GSatTrack website.
---
Maximize: the Value of Advanced Intelligence
Maximize is mostly about saving money, extracting ROI, and automating complex processes
Maximize represents the commercial goal of drawing direct lines between one's data ecosystem and the measurable ROI it generates. While Monitor and Manage are about saving lives and saving time, Maximize is very much about saving money and other capital resources. Where Manage focuses on achieving those savings with automation and control of hardware processes, Maximize seeks to realize this value from automating things on the software side.
When an organization begins to Maximize, it becomes clear that the data ecosystem it has created is worth much more than it costs to operate. The characteristics and need origins for Maximize clients, then, are much more ambitious data goals.
Convert data to dollars
Automate entire business systems and processes
Be able to pull complex insights from any Asset's reporting history
Centralize all communications related to assets and their operators
Leverage past data to predict future costs and outcomes
Fleet management and dispatch
Visualize complicated mapping interfaces with Live Asset positions, Places, Journeys, Geofences, and Data Overlays
Manage and Maximize are very much two sides of the same 'enterprise level' telematics coin. Indeed, they compliment each other, and when viewed as toolsets, have a significant amount of overlap. In fact, Maximize can very often be considered the outcome of 'Manage tools' and 'Monitor data' being put to use in pursuit of measurable ROI. For example, fleet managers and dispatchers will regularly receive notifications of breakdown or distress events from one asset, and be able to quickly isolate that asset, identify the nearest active asset(s) to provide support, and dispatch them to that location in seconds. Doing so leverages live data, Alerts, remote routing, and two-way messaging as a single solution to a major problem, all of which can be managed by a single person with direct lines of communication with all parties in real time, saving time and resources while taking complete control of an emergency scenario and ensuring smooth continuation of business.
To Maximize is every company's ultimate goal with a data ecosystem
When it comes down to it, many organizations begin tracking because of one of the reasons mentioned above in the Monitor section, and after building their ecosystem and understanding how powerful their tools actually are, begin to see the untapped value of unused features and available services. The goal then shifts, and these organizations begin to look into the toolsets that automate their data collection and analysis, hoping to begin employing insights like cross-analysis of Fuel Management and Driver Performance to save money and increase efficiency. Some organizations even gather enough data and analyze it effectively enough to sell their reports as business intelligence.
Other advanced analytics use cases include worksite optimization, which involves tracking the operating load of heavy machinery to ensure the most efficient use of load capacity and uptime. Asset operators can log into any device that supports it, giving managers a work log, complete with exactly how the asset was used while the employee was "on the clock." Keeping track of light vehicles in remote work sites, monitoring for idle times or maintenance needs, and being able to dispatch them to other locations quickly and easily are all ways GSatTrack clients have sought to Maximize the data in their ecosystem using the tools at their fingertips.
Highlight: Maximize Features
Geofencing: adds another layer of automation to certain features like Alerts, by allowing users to mark off geographic shapes on their map and set event triggers for Assets entering, leaving, staying in, or getting near those areas
Automated reports: setting up and running reports, then moving them outside the portal is a very commonly used feature that synthesizes data in an intelligent and concise way, and Maximizing that process includes configuring the portal to run and send those reports automatically and periodically (daily, weekly, monthly, etc) as defined by the user
Advanced analytics: as mentioned above, combining multiple cross-referenced data to extract new insights is a common and easy process for GSatTrack users
Fuel management: between logs, Driver management tools, and specially designed report templates, fuel consumption is one of the most-tracked pieces of non-location information in GSatTrack
Advanced event response automation: being able to configure complex series of Alerts, notifications, automated messages, and event responses is an advanced use measure of a basic toolset that emphasizes Maximize as a summation of Monitor and Manage with the goal of ROI generation
There are a number of other features available to advanced GSatTrack accounts, and a much more in-depth explanation of Manage on the GSatTrack website.
---
An Ever-evolving Landscape
GSE is dedicated to maintaining its commitment to making the Monitor. Manage. Maximize. experience as cutting edge and intuitive as possible. New versions, features, and augmentations are always in process, and those changes will continue to reflect the demands and needs of every segment. For more information about bringing GSatTrack into your organization, please visit the GSatTrack website and request a demo.
Learn More!
Find Your Industry
Cross-industry solutions provide a wide variety of integration options for your business and assets